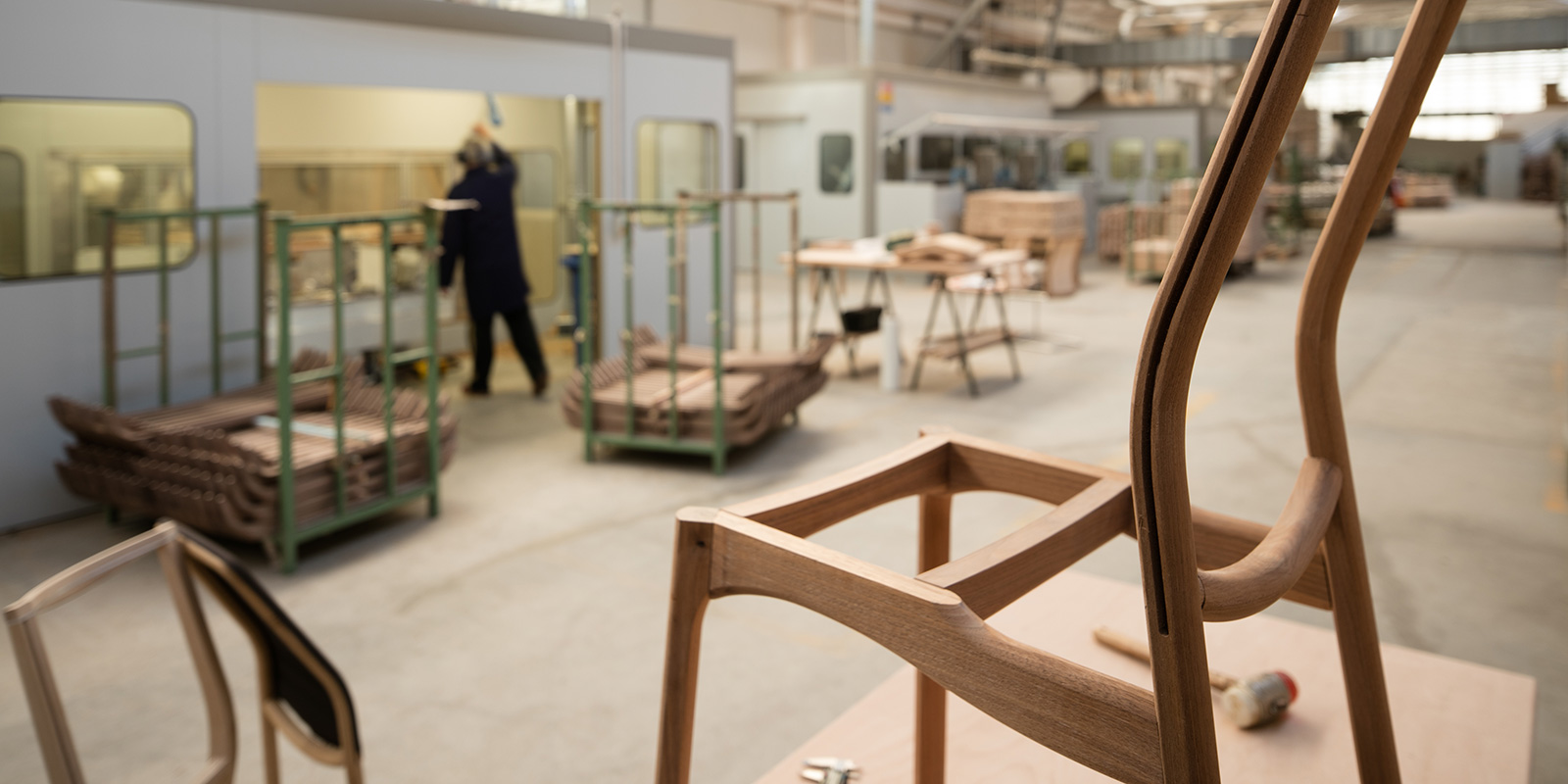 Production process
At the beginning everything seems impossible
When a designer or an architect designs a chair, he is asked to go beyond the threshold of what has already been seen or already known. This is a quite arduous task but amazing and enchanting sinuous forms or daring combinations of innovative materials often leap out from their minds. But then comes production, and here things change. Changes are quite often required, which turn the project upside down and everything seems impossible. This is where we come in. We have learned over the years to come up with solutions that fully respect the designer's work, the stability of the chairs and production costs. In order to ensure our customers a consistent level of high-quality and to keep it constant over time, we have acquired 3D development programs, advanced equipment such as 5-axis CNC centres, allowing all types of shaping and cut of upholstery, varnishing with anthropomorphic robots and finishes that are all completely done by hand. Control of the entire production chain allows us to identify every kind of problem and it solve promptly. For us the impossible is the challenge that we face every day.
Then we find the solution. It is a challenge that we like very much
To understand one must know, that in order to solve you sometimes have to search where no one has searched before. To make mistakes, to start over, to learn and to build on the experience you have gained. This is the way our family works wood, a living material that moves, creating tensions and resistances that must be taken into account. Coming up with the solution is a source of pride because it is always a collaborative effort; there are 27 of us plus ten external craftsmen who work with us exclusively. There is also a great deal of creativity involved in our work, especially as it not infrequently happens s that the piece that you need, does not exist and you have to invent it, it is not by following the well beaten path that you can reach your goal, and there are no shortcuts, that's how you create a new kind of joinery, so that a way is found to insert a brace where it is needed and where it should not be seen. We use the concept of "reinforced wood" to describe the method of reinforcing the structure to impart performance to it that seemed impossible, regardless of the wood species or finish. In addition to "special" productions, Tecnosedia also produces less elaborate chairs, where the common denominator is the product quality and standards of service.